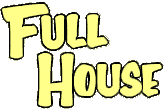 Full House

This is the sitcom in which it all begun. Mary-Kate and Ashley were only a few months old when they started acting in this series from 1987 to 1995. The plot of the series was simple, but good. After his wife died sports reporter Danny Tanner (Bob Saget - Who replaced the originally chosen John Posey.

Although Posey did act in a pilot episode, his scenes were never aired as they got all replaced by Saget's scenes) had the task to raise his three daughters, DJ (Candace Cameron), Stephanie (Jodie Sweetin) and Michelle (this part was shared by Ashley and Mary-Kate). He got help of his friend Joey (Dave Coulier), who's more child than adult, and of his half-Greek brother-in-law Jesse Katsopolis (John Stamos). As the years past in the sitcom Jesse got married to Rebecca Donaldson (Lori Loughlin). They got children of themselves (TWINS!) Nicky and Alex (Blake and Dylan Tuomy-Wilhoit), who were born on Michelle's fifth birthday. Mary-Kate and Ashley shared the part of Michelle, so they were rarely together on the screen. There are, however, a few exceptions. In one episode Jesse had a nightmare, he thought he couldn't handle three children, and it got worse in his dreams as there were suddenly two Michelles.



You know those little angels and devils you see in cartoons? They tell what to do, or what not to do. Michelle has seen them too. She saw a good and bad Michelle in one episode (resulting in THREE Michelles in several shots!!) Jesse's Greek family came over to San Francisco one episode. And they took their children with them. One of those kids was an exact copy of Michelle, except that she had black hair. (You can do a lot with a bottle of temporary black colored hair paint). In the very last episode Michelle lost her memory. But, when she (Mary-Kate) was taking a nap, she woke up to find her memory (Ashley) standing in her bedroom. (Unreal but nice).

The twins could also be seen as Michelle Tanner in Hangin' with Mr. Cooper. There they had a guest appearance in one episode where Mr. Cooper was a substitute in Michelle's class. Michelle made him fall of the desk and later she visited his house together with uncle Jesse.




Two of a Kind

Mary-Kate and Ashley Burke (Mary-Kate and Ashley Olsen) are twin sisters. They are totally different. Mary-Kate is a big sports-freak who doesn't do anything for school. Ashley on the other hand, is a straight-A student and boy-crazy.

The best is that Mary-Kate always has a mean joke ready for Ashley, on which Ashley sometimes reacts as an average guest at the Jerry Springer show. Their single dad, Kevin (Christopher Sieber) is a science-professor.



He hires a student of his, Carrie Moore (Sally Wheeler) to baby-sit the twins. Carrie is a complete lunatic, but a nice lunatic. She's wild and full of surprises. And the twins really love her. At the end she even ends up kissing Kevin, who she usually drives mad. And she really meddles into everything. And then there is Eddie (David Valcin) who is Kevin's best friend and a single-man, but extremely woman crazy. And Paul (Ernie Grunwald - worked before with the twins in It takes two) who is a classmate of Carrie, and even more lazy in study than Mary-Kate is. The series started in fall 1998, and the first season has ended in April 1999. It was not only the first, it was also the only season ever. After one season both ABC and Warner Bros axed the sitcom.

So little time

Mary-Kate and Ashley Olsen play teenage girls, Riley and Chloe Carlson, in their new television series So Little Time on Fox Family Channel. Riley and Chloe, too, have the everyday problems teenage girls face, on top of dealing with their two very different, somewhat bizarre separated parents. Their mom, Macy Carlson, lives in a dream beach house in Malibu, California and has a glamour job as a high fashion designer and very successful executive.



Their dad, Jake Carlson, has decided to "find himself" and move his new home on wheels--a tiny trailer--right next door. So different, but they still have their two daughters in common and the love they have for them. Somehow this makes the family functional in its own peculiar way. Add a Latino housekeeper to the mix, an over the top friend who is obessed with Riley, and a beautiful exotic fashion model friend, and you've got a hilarious recipe!

Olsentwins Appearance in other TV showns!

- Hangin' with Mr. Cooper - Hangin' with Michelle
(1992, season 1, episode 2)
- Ellen - Ellen's improvement
(Mary-Kate only) (1995, season 2, episode 13)
- Sister, sister - Slime party
(1996, season 4, episode 21)
- All my children (1998)
- 7th heaven - Gossip
(2000, season 5, episode 8)